Would you like more deals, more closed sales, and better relationships? What if I told you that you could harness that wasted time, money, and energy and instantly increase your bottom line?   You want that – right? Well, you can do it. You need the formula. Not just any formula, but one grounded in science and research. 
Let's face it, sales make the world go around. Indeed, nothing happens until a sale occurs. Whether you are selling an idea, a product, or a service – whether you are selling to your spouse, your boss, or your prospect – sales keep things moving and keep us growing. 
As a person who has been in sales since I was ten, I learned quickly that some approaches worked while others did not. I had yet to learn why or exactly how to tweak my strategy to increase my skills to get the sale every time. Most of my sales were achieved by trying something new and hoping that it would result in increasing my bottom line.
If you are frustrated and tired of hearing "no," you are at the right place. Science of Sales will teach you ethical principles that result in you hearing "yes" by 300-400%. I know it sounds too good to be true, but these results are backed by science and research. By following these universal principles in an ethical manner, you'll not only increase sales but establish long-term, trust-based relationships with your clients.
SCIENCE OF SALES includes:
Know Your Customer, Know Yourself
Generational Factors To Selling
How To Find Out What Your Customer Really Value
Customizing Your Value Proposition
How To Appropriately Demonstrate You/Your Company Is The Expert
What Do Customers Desire In Follow Up
Is Sales Really Persuasion?
How to Influence For Sales and Long-Term Loyal Customers
Is It What You Say or How You Say it?
Understanding The Sales Process To Be Effective
By changing the order in which you say things, understanding the impact of your body language, being intentional about the words you choose, and capturing the energy of the moment, you will walk away looking like the expert in your field. Everyone will seek you out from the others, and most of all, they will buy. Applying this formula causes your business to skyrocket.
For example, research done by Harvard professor Ellen Langer has shown that certain words used properly can influence decisions.  In her study, Professor Langer had her research assistants ask to cut in front of people waiting in line to make copies. The assistants used three different requests:
"Excuse me, I have five pages.
May I use the Xerox Machine?"
"Excuse me, I have five pages.
May I use the Xerox Machine because I am in a rush?"
"May I use the Xerox Machine because
I need to make some copies?"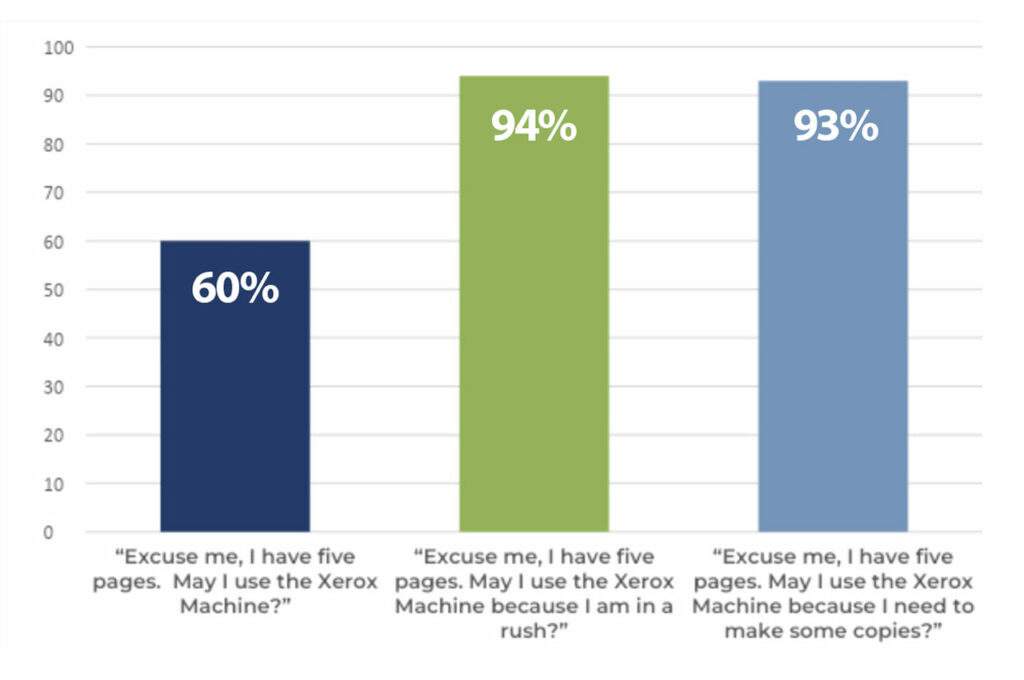 The results were astonishing!
The word "because" makes people 55% more likely to agree.
But, there is something else about this study. Do you know what it is?
Contact us to give us your guess and to find out the answer.
Contact us to
schedule your training
Schedule a call today to learn more about these powerful scientific principles so you can instantly increase your bottom line.